Next:
Compressing and Cloning Assessment
Up:
Open Admin for Schools
Previous:
Student Sorting Order
You can post marks from the gradebook into the report card system by choosing the Post button on the top right of the main page. The posting process if only for putting numerical grades into the report card and only into a single objective in the subject. If your subject has multiple objectives on the report card, you will have to enter other assessments into the report card directly from the teacher admin page under Progress Reports, choosing Add / Edit Marks. In fact the posting processs just simplifies the process of moving a mark into the report card; you can also enter all assessments directly via the method mentioned above.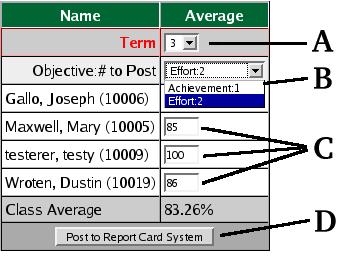 A - Term Select allows the user to select which term to post these marks into. It will display the current term set by the office. This can be changed if necessary.
B - Objective Select allows the user to select which objective to post the marks into (if more than one).
C - Posted Marks are the actual marks to post into the report card system. These marks may be adjusted before posting if desired.(ie. boosting marks to 50 or other policy requirements, etc.)
D - Post to Report Card System does the actual posting process.
Note: If there are existing values in the report card system for any student being posted to in this term, this will not be overwritten by this posting, but will be skipped. It will also notify the user that this student has an existing value. It will also notify the user of the number of postings done.
---
Next:
Compressing and Cloning Assessment
Up:
Open Admin for Schools
Previous:
Student Sorting Order

2010-07-18